Archive for the 'Uncategorized' Category
Posted by flairwhoooooo on September 18, 2015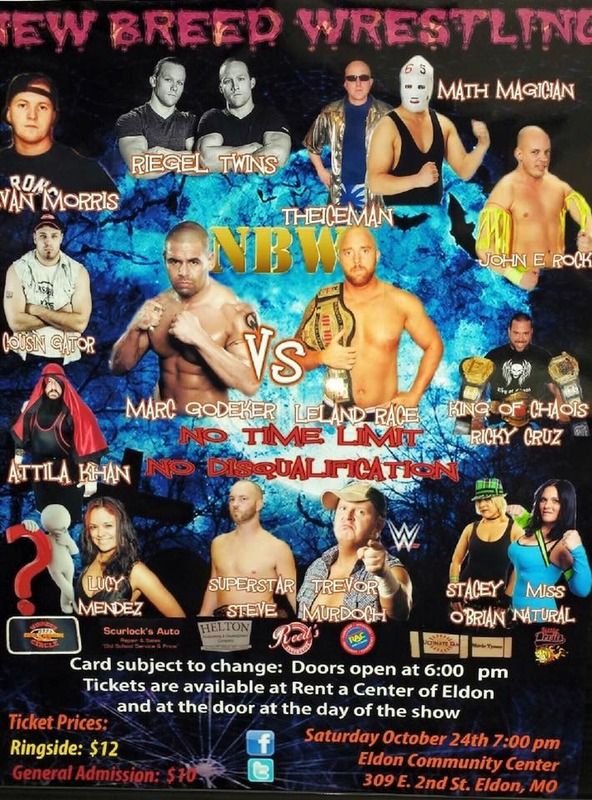 Evan Morris will be continuing his open challenge to the NBW locker room.
The Riegel Twins against The Math Magician and The Iceman. NBW fans should enjoy the Riegels, we're glad to have them on board at last.
For the first time in the city of Eldon there will be a ladies tag team match with Miss Natural and Stacey O'Brien against Lucy Mendez and D'Arcy Dalton.
Ricky Cruz will be fighting Attilah Khan, managed by Travis Cook. Mr. Cook I've been looking forward to meeting your man Atillah for a long time. I want you to tell him that I have zero patience for playing dirty. He might just find that out the hard way.
Superstar Steve against Trevor Murdoch. We all came up together back in the day. Steve, you and I shared Rookie Of The Year honors in that same building. Trevor, you and I fought too many guys to count across the Midwest and back again. But if a bomb ever drops on us all and leaves nothing but cockroaches and dust you two will still be there in the middle of it trying to settle the score.
Marc Godeker against Leland Race. No time limit, no disqualification. We tried it twice before and couldn't come up with a winner, and now it's time to roll the dice again. Only this time, there WILL be a winner decided even if I have to decide for you. The fans want it, I want it, and we WILL have one in October.
We'll also have John E. Rock and the big man Cousin Gator in the house, we've all been working hard to make this show the best it can be and I hope to see all of you there.
– W W C
Posted in Uncategorized | Leave a Comment »